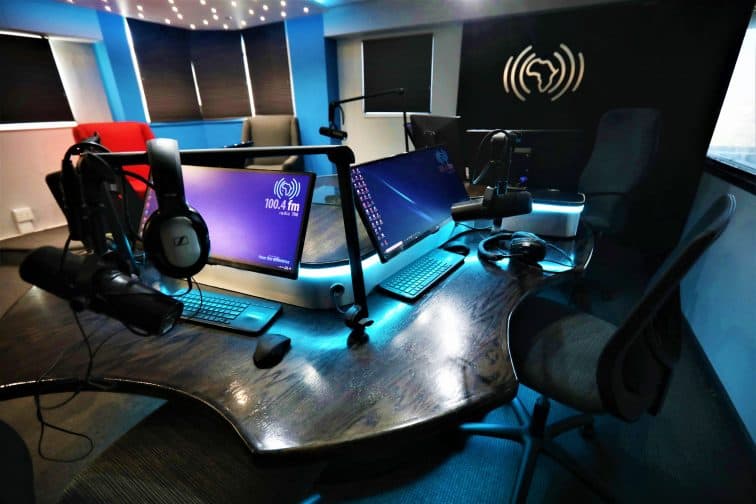 At the preamble of Radio 786 in 1995, the station was launched with the commitment to Inform, Educate and Uplift. From modest beginnings at a double-story house, Radio 786 has gone on to become a multi award-winning broadcaster, contributing to the field of media through its extensive lobby work, skills transfer and the aptitude to strengthen the community broadcasting sector.
In 2016, Radio 786 entered its 21st year of broadcasting. It was the station's resolve to enter into the next era of broadcasting and the convergence of traditional and new media. In-doing-so, Radio 786 set in motion a major upgrade of its studios which morphed into becoming a fledgling broadcast centre. The project involved an investment of several hundred thousand rand, augmented by the business community and benevolent donors.
The vision, to bolster the African Voice, laid the ground for the implementation of a well-designed studio to enhance its training program and pit itself against established commercial broadcasters. The broadcast centre boasts a new digital sound console, integrated sound solutions and a digital media component which allow for television and social media.
Radio 786's Broadcasting and Media Centre incorporates top-end broadcast systems, a fully digital operations centre and capable infrastructure to produce and develop the fresh and dynamic programming ideas.
With a digital Broadcast Centre, video production platform and online portal, Radio 786 has the capability to deliver premium content and broadcast related services.
The broadcasting centre incorporates three distinct setups to cater to Radio 786's diverse programming needs. Considering developments in the media sector and how consumers interact with information, the build was executed with latest trends in mind. Therefore the studios – while still focused on audio broadcasting reflected a modern and appealing visual experience.
The incorporation of video capturing and broadcasting capability into the studio enhances Radio 786's image and ensure it remains at abreast of global media trends.
The introduction of professional video capability coincides with the launch of Radio 786's multi-faceted website which serves as an immediate platform for both live and on-demand distribution of audio-visual content.
The Programming Department produces lifestyle shows that discuss a range of topics affecting the lives of everyday people. These shows ensure that our audience is always informed. They also uplift you through the charisma and wit of our presenters and guests. 
While conventional radio broadcasting is the station's base,  it does not hinder it from becoming proficient in other fields of media. With a recently established film crew, Radio 786 is taking its mastery in radio to deliver auditory and visual edutainment.