Tashreeq Truebody writes
The Cape Coloured Congress is a new kid on the block. It is colourful in policy (excuse the pun) and brings to local politics a sense of anger that is slowly translating into a people choosing to organize and fight their own battles. They have come to realize, no one else will. 
The party came on the scene about four years ago after a meeting about a housing development went sour in the Southern Suburbs, a predominantly coloured-black cluster of communities. 
What started as a band of 'Gatvol' Capetonians, became the match that lit the fire raging among their constituents.
Testament to the leader's frank and straight talk, Faadiel Adams holds no reservation in calling the MEC for Human Settlements a liar. It was the collapse of this meeting where the resolve was taken to form a movement that will agitate for their cause. Initially they were all 'Gatvol Capetonians' fed-up with being "lied" to.
However, they soon came to realize that blocking-off Prince George drive and threatening to invade open spaces for settlement will not work. They needed to organize and politically confront the issues which mattered the most to them.
And then what started as a band of 'Gatvol' Capetonians, became the match that lit the fire raging among their constituents. Their sole demand at the time and probably still is – decent housing. This, the party believes will translate into a decent opportunity for families at a dignified life and comes with the spoils of creating jobs and economic opportunities. 
In making these demands, the party has resorted to colourful language and postures, often coming across as less diplomatic, irrationally radical, nationalistic and off-cause, racist and xenophobic.
Adams has always tried to dispel these in as much it could be argued that in the identity of the party exists a clear inconsistency with that which they lament was the creation of Apartheid social design – the classification system in particular.
However, in an sit-down with Radio 786, Adams retorts by saying that when coloured people apply for work, do not let race be the deciding factor. When I apply for housing, state aid, or for help! – do not let race be the factor".
But why do they make it about coloured-ism? Faadiel said this identity is rooted in the fact that his people have been denied under Apartheid and continue to be denied in the democratic dispensation.
In pondering whether a non-coloured can find a home in a party such as the CCC, Adams fundamentally believes that people from other races do support the party and goes on to underscore that South Africans across the board can understand the marginalization of the coloured people and understand the ideology. "It doesn't take a genius to figure it out, certain sectors of government have admitted that we abused you guys, but an apology is not enough. We need corrective action", said Adams.
While the tone of their cause seems a bit discursive and alarming to some, it makes me wonder, when has being angry ever been rational? In bursts of anger, we are never even minded or even practical. 
It is precisely this anger that was engineered not only by Apartheid's ancestors, but modern-day governments that have fundamentally neglected the Cape Flats. 
This movement is increasingly demonstrating that they will no longer be fooled and taken for granted. And they believe that only they can change course by contesting political power. Whether they will be reasonably successful remains to be seen. However, they increasingly seem as worthy proponent to agitate for the manner in which resources are allocated and bring to council the stories of so many people that are only afforded an audience during an election cycle.
As for their biggest opponent, the Democratic Alliance, Faadiel Adams believes that coloured people are in an abusive relationship with the DA adding that "without the coloured vote, there is no DA'.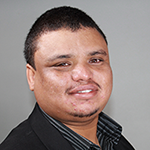 Tashreeq Truebody is Station Manager at Radio 786 and a leading South African journalist. His career has seen him interview a spectrum of South African politicians and newsmakers, including Jacob Zuma, during his tenure as President.
Keeping a keen eye on South African politics and social challenges, he writes in his personal capacity.