Its shine is a sharp contrast to the deep-red rock that surround it. Coined the 'monolith', this metal structure has caught the eye of local and international news.
The estimated 3-metre structure was discovered in a remote part of Utah, after wildlife officials spotted it from a helicopter whilst counting sheep.
In an interview with KSLTV, the pilot of the helicopter, Bret Hutchings said: "That's been about the strangest thing that I've come across out there in all my years of flying."
Hutchings further added: "I'm assuming it's some new wave artist or something or, you know, somebody that was a big 2001: A Space  Odyssey fan…" He describes the monolith as being manmade and something that was firmly planted in the earth, not something that just fell out of the sky.
He details the discovery, recalling how the biologist who was counting the number of bighorn sheep in the south of the state suddenly urged Hutchings to back to the scene: "One of the biologists is the one who spotted it and we just happened to fly directly over the top of it," He adds, "He was like, 'Whoa, whoa, whoa, turn around, turn around!' And I was like, 'What?' And he's like, 'There's this thing back there – we've got to go look at it!'"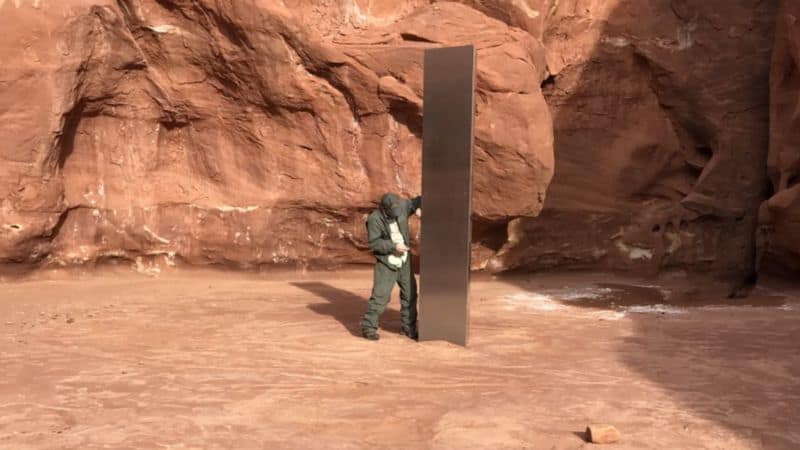 The Utah Department of Public Safety Aero Bureau released images of the puzzling mass. The bighorn sheep live in rugged landscape, out of fear for amateur explorers going out in search of the monolith, the Bureau refused to disclose the exact location of the structure.
However, just as soon as it was discovered it vanished. The Bureau of Land management Utah posted an official statement to their Facebook page, which read:
Regardless of the secrecy surrounding the location of the monolith, some eager explorers made the journey and found it tucked away among the red rocks.
Header image: New York Post