Today marks 33-years-since the death of Thomas Sankara. Referred to as Africa's "Che Guevara", Sankara served as the President of Burkina Faso from 1983 to 1987. The Marxist–Leninist was a charismatic and iconic figure of the revolution which later led to his assassination.
The pan-Africanist was assassinated by troops led by Blaise Compaoré, who assumed leadership of the state shortly after having Sankara killed.
Sankara seized power in 1983 at the age of 33. His objective was to root out corruption and bring to an end the dominance of the former French colonial power.
Upon assuming power, Sankara renamed the country from Upper Volta to Burkina Faso ("Land of Upright Man").
His domestic policies were focused on preventing famine with agrarian self-sufficiency and land reform, prioritising education with a nationwide literacy campaign and promoting public health by vaccinating 2.5 million.
Other components of his national agenda included planting over 10 million trees to combat the growing desertification of the Sahel, redistributing land from feudal landlords to peasants, suspending rural poll taxes and domestic rents and establishing a road and railway construction programme. Sankara also called on every village to build a medical dispensary and had over 350 communities build schools with their own labour. Moreover, he outlawed female genital mutilation, forced marriages and polygamy. He appointed women to high governmental positions and encouraged them to work outside the home and stay in school, even if pregnant. Sankara encouraged the prosecution of officials accused of corruption, counter-revolutionaries.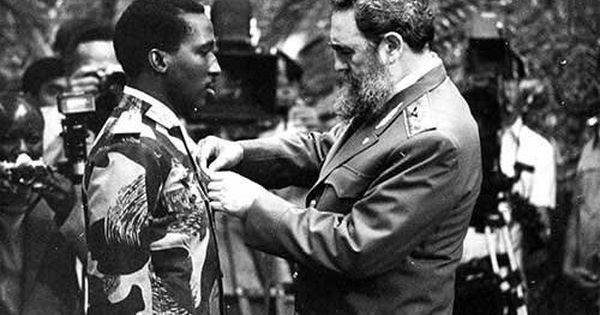 Sankara remained popular with most of his country's citizens, often preaching self-reliance.His foreign policies were centered on anti-imperialism, with his government eschewing all foreign aid, pushing for odious debt reduction, nationalizing all land and mineral wealth, and averting the power and influence of the International Monetary Fund (IMF) and World Bank.
However his policies alienated and antagonised France and its ally, the Ivory Coast. As a result, he was overthrown and assassinated in a coup d'état led by Blaise Compaoré on October 15, 1987. A week before his murder, he declared: "While revolutionaries as individuals can be murdered, you cannot kill ideas."
The deterioration in relations with neighbouring countries was one of the reasons given for his assassination, with Compaoré stating that Sankara jeopardised foreign relations with former colonial power France. It was later revealed that the assassination was engineered by Charles Taylor, a Liberian former politician and convicted war criminal who served as the 22nd President of Liberia.
Sankara's body was dismembered and he was quickly buried in an unmarked grave, while his widow Mariam and two children fled the nation. Compaoré immediately reversed the nationalizations, overturned nearly all of Sankara's policies, rejoined the International Monetary Fund and World Bank. Compaoré's dictatorship remained in power for 27 years until overthrown by popular protests in 2014.
Source: Wikipedia/thomassankara.net